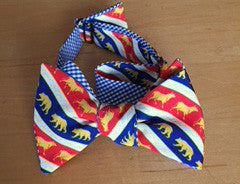 Bears and Bulls Stock Market Bow Tie
Perfect bow tie for those in finance!! 
Bears and Bulls marching on red, white and blue stripes with up tick symbol printed on silky faille
You-tie style reversible to navy gingham 
Pre-tied style has navy gingham neckband
Adjustable hardware on you-tie style allows unhooking...no need to retie! 
Matching cummerbund available 

Made in USA

"Tie a Great Knot"