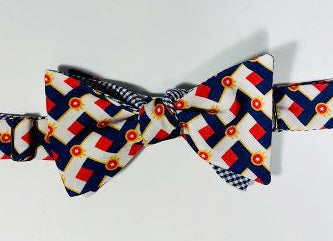 Tulsa pattern
Anchors pattern with stripe is perfect design for seaside wedding or dockside event!
Self tie bow tie is reversible to gingham check; Pre-tied has gingham band.
Adjustable hardware on you-tie style allows unhooking...no need to retie!
Available in aqua or navy colors.
Also available in pocket square, cummerbund, child size and dog bow!

Handmade with care in the USA!

"Tie a Great Knot"
Please contact us for large quantity orders: info@greatknots.com